SMARTUNIFIER is Now Available in the AWS Marketplace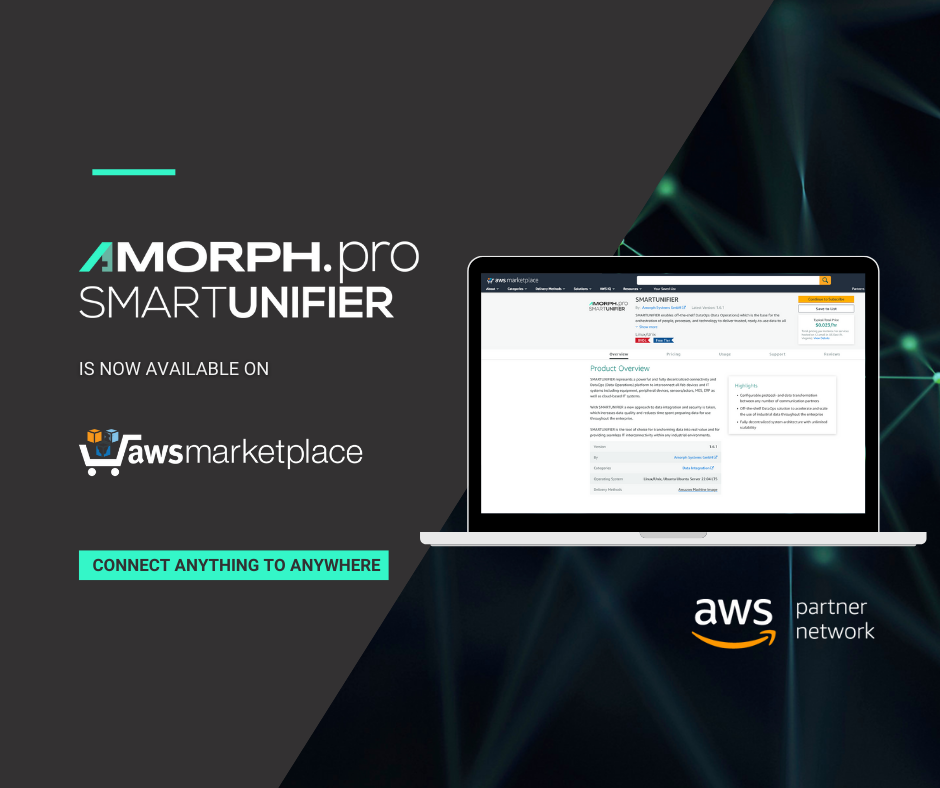 We are excited to announce that we have launched our SMARTUNIFIER solution in the AWS Marketplace, a digital marketplace that makes it easy for organizations to discover, procure, entitle, and provision third-party software with confidence.
Take your production IT and your equipment to a new level of industrial connectivity using AMORPH.pro SMARTUNIFIER.
Simle-Fast-Reliable
Through the AWS Marketplace, your teams now have easy access to the SMARTUNIFIER Connectivity Platform as a Service.
Simple: with only a few clicks you can directly purchase SMARTUNIFIER, either as a trial version or combined with a yearly license price.
Fast: after selecting of your preferred purchasing options, you can start immediately to use SMARTUNIFIER, either for creating a first PoC or for actual deployment in any production environment.
Reliable: with SMARTUNIFIER you can rely on our extensive experience with seamlessly connecting industrial equipment, IIoT devices, and IT systems and our team will assist you to set up a first PoC for your specific Industry 4.0 use case.
Deploy and activate SMARTUNIFIER
How to deploy and activate SMARTUNIFIER on your AWS environment:
Deployment:
Click here to access SMARTUNIFIER on the Marketplace
Launch SMARTUNIFIER by selecting the 'continue to subscribe' button and following the AWS instructions or launch directly on EC2 following the installation guide.
Activation:
SMARTUNIFIER is accessible in a "Bring your own license" (BYOL) model. The activation of the product requires the software's license. Contact info@amorphsys.com to request a limited evaluation license. After the trial period ends, depending on your specific requirements, we will create a tailored offer for your integration use case.
Close the gap
By using SMARTUNIFIER you can immediately close the gap between your production equipment, your IIoT devices, and your production IT. So, stop being concerned about many different communication protocols and different data formats – SMARTUNIFIER will handle that for you – in a simple, fast, and reliable way!
It's so easy to start with SMARTUNIFIER, just click here !