Fab Planning and Optimization
Amorph Systems' simulation services comprise simulation model development and the conduction of simulation trainings.
Risk minimizations by early concept validation, time and cost reduction achieved by an optimized planning as well as appealing visualizations are the convincing advantages for our simulation customers. For model development, we use the AnyLogic simulation tool and our own AMOPRH.SIM, a comprehensive simulation suite for AnyLogic. The library compiles our long-time simulation experience and allows the development of simulation models in a short period of time. In doing so, we take care that the models allow comprehensive configurations so that model and system parameters can optimized by repeated simulation runs, respectively. Model changes are not necessary at all. A clear presentation of the simulation results can be taken for granted. The subsequent picture illustrates the overall procedure.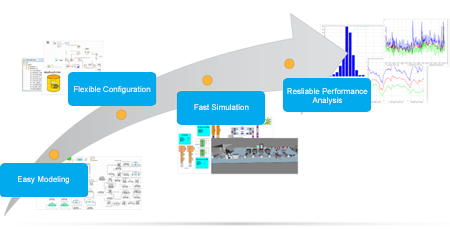 For our simulation customers we do projects in a large variety of domains:
Manufacturing line simulation and optimization
Innovative production environment evaluation
Construction site simulation
Railway operation and supply chain optimization